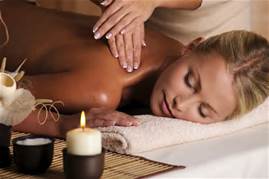 MENU OF SERVICES
ULTIMATE MASSAGE- A full body massage utilizing a mix of techniques from several different modalities. YOU CHOOSE your desired pressure level and aromatherapy scent; creating either a soothing and relaxing experience or an invigorating experience designed to target and release muscular aches and tension. Moist heat application included.
40 Minutes-$49
70 Minutes-$79
90 Minutes-$99
MEDICAL MASSAGE- A tailored , specialized massage designed in conjunction with your healthcare provider to provide pain management and injury recovery due to recent surgery, car accidents, workplace injuries and pain and stress due to oncology treatment.
60 Minutes-$80
DELUXE HOT STONE- A medium pressure Swedish massage utilizing the hands and heated stones for the ultimate in relaxation and stress relief. Includes moist heat and your choice of aromatherapy.
90 Minutes-$125
REFLEXOLOGY- A rejuvenating massage for your hands and feet utilizing traditional massage techniques and pressure point therapy. Includes moist heat and aromatherapy.
40 Minutes-$49
70 Minutes-$79
COLLAGEN "FACE & NECK LIFT" MASSAGE- Includes neck and facial cleansing, a hydrating collagen mask specifically designed for the face and neck, a finishing massage designed to firm and tighten the skin and a soothing scalp massage.
50 Minutes-$85
TRINITY MASSAGE- A relaxing treat for your head, hands and feet. Includes aromatherapy and moist heat.
40 Minutes-$49
BACK "FACIAL"- Show your back some love with this relaxing treatment designed to cleanse and hydrate your back. Includes cleansing, exfoliation, mud mask, hot towel steam and finishing massage.
$70 minutes-$89
PRE/POST-NATAL MASSAGE- A specialized massage designed for the needs of a pre/post natal mom. A prenatal pillow will be used to provide maximum support and comfort.
70 Minutes-$85
MASSAGE ADD-ONS
(ADD TO ANY 70 OR 90 MINUTE MASSAGE FOR A CUSTOMIZED EXPERIENCE)
MINI HOT STONE – adds a teaser of hot stones to your massage. $12
UNDER EYE OR LIP COLLAGEN- plumps and smooths the sensitive, delicate skin under the eyes or on the upper lip. $12
FULL FACE or NECK COLLAGEN- Choose from a face or neck plumping & hydrating collagen treatment. $20
DRY BRUSHING- Exfoliating, detoxifying and stimulating dry skin brushing. $10
FULL BODY HOT TOWEL- Full body application of scented hot towels. $10
DETOX OIL COMPLEX- Add an essential oil complex to your massage designed to detoxify your skin & body. $12
FIRMING OIL COMPLEX- Add an essential oil complex to your massage cream designed to firm & tighten skin. $10
HERBAL EYE PADS- Lavender and chamomile eye tea bag treatment for tired or puffy eyes. (Available hot or cold). $8
MASSAGE PACKAGES
Buy more and save!
Purchase 5 or more massages and save $9 on each massage.
(Packages not applicable to medical massage)