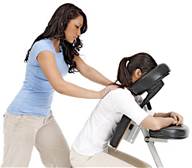 Euphoria On-Site Chair Massage
We bring massage to your workplace!
A great and affordable addition to any wellness program, chair massage provides your hard working employees with a convenient method of eliminating the stress inherent in these competitive times.
A 10 or 20 minute stress-busting neck, back and shoulder massage can relieve tension, reduce irritability, increase productivity and increase employee loyalty.
The chair is small, lightweight and portable and able to be set up in any office or break room.
The massage is performed right through clothing using no oils.
Session length can be as short as 5 minutes or as long as 20 minutes.
The company may wish to pay for their employees services, split the cost or just allow employees to pay or their own.
Discounted rates are available for large groups.
Call Dana at 973-362-8713 for a custom rate.